Beyond Victory
The History of Isle of Wight Firefighting Volume 8
by Damon Corr
About the Book
The eighth and final volume in Damon Corr's series of Isle of Wight firefighting histories brings the story to the end of 1950, 100-years after Volume 1 began in 1850.
By 1950 the Isle of Wight County Fire Brigade was just two-years since creation after the disbanding of the National Fire Service. But before that, the Island and its firefighters had their part to play in the tense final throes of the war before peace could be secured and a future envisioned beyond victory.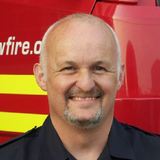 Hi, I'm Damon; husband, father, grandfather and a firefighter since 1996. During that time, I have served operationally at Ryde Fire Station, Isle of Wight Fire and Rescue Service (now Hampshire and Isle of Wight FRS) , initially retained and later as a whole-time member, and have also served in aviation/MoD fire and rescue. Instructional qualifications have enabled me to deliver fire and rescue training in municipal, aviation and maritime sectors over the course of a fascinating career that has now taken me to a full-time position in operational training. My fascination for the service's history began within weeks of joining and is yet to expire. I hope you enjoy my books and be assured that all sales profits are forwarded to the Firefighters Charity (UK). Thank you, Damon.