1940
The Road is Long and Narrow
by Damon Corr
About the Book
1940 opened amid the Phoney War. With a lack of action came a call to reduce the costs incurred by the massed recruitment into the Air Raid Precautions and Auxiliary Fire Service of the previous year. Scorn was placed on the civil defence forces and firemen, not only stemming from economic concerns during a time of extreme austerity, but personally the men were attacked for allegedly dodging military service. Then the bombs began to fall and everything changed.
1940 was the year that the Isle of Wight sustained its first experience of aerial bombardment. This is the story of that year, told in the main through the eyes of the emergency workers who experienced it and of the wider Island as matters happened around them over which they had no control. But they did have the ability, skills and endeavour to meet each head on.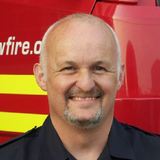 Hi, I'm Damon; husband, father, grandfather and a firefighter since 1996. During that time, I have served operationally at Ryde Fire Station, Isle of Wight Fire and Rescue Service (now Hampshire and Isle of Wight FRS) , initially retained and later as a whole-time member, and have also served in aviation/MoD fire and rescue. Instructional qualifications have enabled me to deliver fire and rescue training in municipal, aviation and maritime sectors over the course of a fascinating career that has now taken me to a full-time position in operational training. My fascination for the service's history began within weeks of joining and is yet to expire. I hope you enjoy my books and be assured that all sales profits are forwarded to the Firefighters Charity (UK). Thank you, Damon.