Penumbra
Poems about Dementia
by Elizabeth Miller
This book may be found in online bookstores, like Amazon.com, using the ISBNs below:
Softcover ISBN:
9780368601538
About the Book
When Elizabeth Miller's mother was diagnosed with dementia in 2015, Elizabeth turned to poetry as a way of processing her emotions.
'Penumbra: Poems about Dementia' is a collection which portrays one family's complex journey through this challenging disease. Some poems are light-hearted and whimsical, while others are more complex and encourage deep reflection.
Accompanying notes illuminate the wider context of the narrative. To offer a sense of perspective and comfort, Biblical references and aspects of theology have also been included.
This book will appeal to readers who are seeking a better understanding of dementia and the way it impacts our lives. Those who care, or have cared, for someone with dementia will find it an invaluable resource.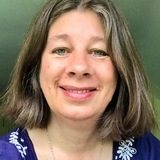 Elizabeth Miller, author of 'Penumbra - Poems about Dementia' and 'Halfpace - Poems About My Childhood' is a writer, mother and teacher. The daughter of a librarian, with both parents as published authors, she has spent much of her life surrounded by books. At age three, she announced that her ambition was to be 'a poem lady and drive round Ireland in a tractor'. Although she has enjoyed writing ever since, she has yet to climb aboard that Irish tractor! When Elizabeth's mother was diagnosed with dementia in 2015, Elizabeth began writing poetry as a cathartic activity but soon realised that her poems could help others if shared more widely. Since then she has continued writing poetry on a wide range of topics and enjoyed giving poetry readings, leading discussions and running workshops to help others find their voice. Facebook: Elizabeth Miller Poetry