Scenespirations Bk 3
God's Word, God's World
by Hilary Carne
About the Book
This is my third hard cover coffee table type book featuring 52 full page scenic photographs with a Bible verse on each. As with the first two books, accompanying each photograph, on the opposite page, is a short meditation on the Bible passage featured. The photographs are mainly taken in Australia.
Features & Details
Primary Category: Coffee Table Books
Additional Categories Fine Art Photography, Religion & Spirituality
Project Option: Standard Landscape, 10×8 in, 25×20 cm
# of Pages: 108
Isbn

Hardcover, ImageWrap: 9798210702791

Publish Date: Nov 13, 2023
Language English
Keywords

Scripture;Devotionals;Photography;Bible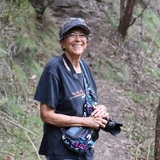 I spent most of my working life working overseas in with a mission called "Wycliffe Bible Translators". I am an RN and worked in medical clinics, as well as later on training in literacy and working in that capacity. I also had a period of a couple of years of working for CBMI in Niger, West Africa. When I retired from mission work after 28 years I wasn't sure where to plug into the world back home. Photography has always been a hobby so I started a small business called "Scenespirations" making greeting cards from my photos. It didn't prove to pay many bills, but it has proved to be "just" a wonderful hobby. I enjoy the photography and creativity involved. If you want to see how that works out these days, see my newly formed website. I am now happily an "old age pensioner who continues to think she isn't very old." It is a fun season in life.