1939 A Calf With Two Heads
Isle of Wight Firefighting Volume 4 - 1939
by Damon Corr
About the Book
In previous volumes I have told the story of Isle of Wight firefighting from 1850 to 1938, a period in which firefighting was done by fire brigades formed of firemen, with few exceptions. In 1939 the impacts of the Air Raid Precautions Act and the Fire Brigades Act was vast. The former Act created organisations on a national scale that caused unprecedented national and local change.
Until 1938 the environment of the fire was a place for firemen only. The fire-ground was sacrosanct and within it the firemen untouchable.
In 1939 the fire-ground opened its cordons and allowed others in. A myriad of ARP sub-organisations had not only a right but an expectation to enter emergency incidents and save life. With colossal suddenness the local brigades were compelled to work alongside the massed elements of civil defence.
A historical reflection of firefighting in 1939 must capture the true essence of the society that prepared to fight fires as it prepared for, and engaged, in war.
It was also the year that the Island was damned by the portent of a calf with two heads.
This was 1939.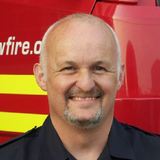 Hi, I'm Damon; husband, father, grandfather and a firefighter since 1996. During that time, I have served operationally at Ryde Fire Station, Isle of Wight Fire and Rescue Service (now Hampshire and Isle of Wight FRS) , initially retained and later as a whole-time member, and have also served in aviation/MoD fire and rescue. Instructional qualifications have enabled me to deliver fire and rescue training in municipal, aviation and maritime sectors over the course of a fascinating career that has now taken me to a full-time position in operational training. My fascination for the service's history began within weeks of joining and is yet to expire. I hope you enjoy my books and be assured that all sales profits are forwarded to the Firefighters Charity (UK). Thank you, Damon.