The Beginning of the End
Isle of Wight Firefighting Volume 3 (1919-1938)
by Damon Corr
About the Book
"When the National Fire Service was formed, the Home Secretary promised that when it was all over we'd get our fire brigades back."

The Home Office broke that promise. By the end of the Second World War a revised Fire Services Act compelled the creation of county fire brigades. The borough, town and parish brigades were never to return.

Throughout the between-the-wars period the Island's fire chiefs and men worked hard to learn new skills, adapt to motorised engines and pumps, swap their iconic brass helmets for safer leather patterns and evolve their trade beyond anything previously experienced in preparation for the anticipated war.

Little did they know that those events, for which they so arduously endeavoured, would, for their fiercely proud brigades, mean the beginning of the end.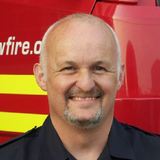 Hi, I'm Damon; husband, father, grandfather and a firefighter since 1996. During that time, I have served operationally at Ryde Fire Station, Isle of Wight Fire and Rescue Service (now Hampshire and Isle of Wight FRS) , initially retained and later as a whole-time member, and have also served in aviation/MoD fire and rescue. Instructional qualifications have enabled me to deliver fire and rescue training in municipal, aviation and maritime sectors over the course of a fascinating career that has now taken me to a full-time position in operational training. My fascination for the service's history began within weeks of joining and is yet to expire. I hope you enjoy my books and be assured that all sales profits are forwarded to the Firefighters Charity (UK). Thank you, Damon.